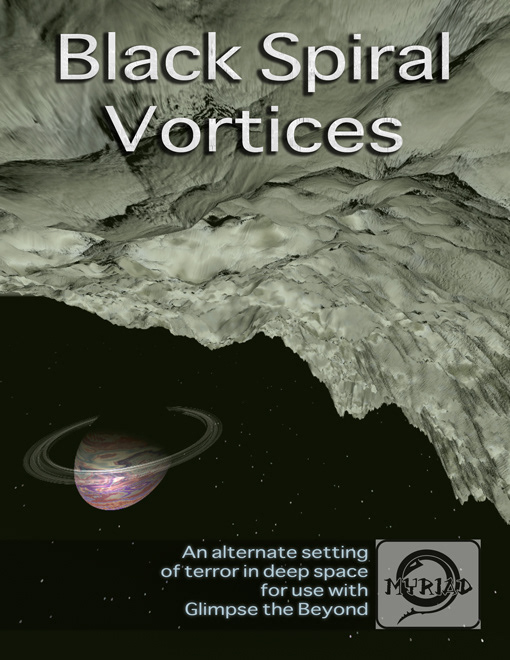 Black Spiral Vortices

is a unique setting expansion for

Glimpse the Beyond

, which examines options for an expanded, futuristic version of the galaxy.

Black Spiral Vortices

introduces a possible future for the world of

Glimpse the Beyond

, in which humanity has discovered the true nature of the supernatural through expanded exploration. Set in the year 2216, this supplement looks at a human race that has prospered through technological advancement and survived supernatural strife. Civilization as we know it in the 21st Century is a distant memory, and the Magi, once hidden from humanity, have risen to cultural prominence. No longer concerned with keeping their fellow humans in the dark about the supernatural, Magi now stand side by side with engineers and astrophysicists, using their knowledge to shape the future. Science and Magick have found a way to coexist in this world, by merging into the new practice known as Metateck, for the betterment and expansion of humanity throughout the cosmos.   



Black Spiral Vortices

examines how new technologies and magickal revelations have reshaped the universe and expanded humanity's role within it. The rules and materials herein are designed to explore a dark, yet hopeful future, far removed from the "world outside your window" presented in the core rulebook. This possible future is painted in broad strokes, leaving many of the specific details up to the Guide to determine. New setting elements and systems will be introduced which have been designed with the interstellar setting of

Black Spiral Vortices

in mind. Having said that, some Guides may wish to cherry pick certain elements from this book for use in a standard

Glimpse the Beyond

campaign, while ignoring other elements. Such is the prerogative of the individual Guide. It's your game. Keep what you like and discard the rest. 
Alternate Character Creation Rules

: an expanded rule set that allows players to draw up mundane humans, Magi, technomagickal Metaphysicists, or supernatural creatures as playable characters.


New Boons, Flaws, and Skills

: Boons, flaws, and skills specifically designed for use in the

Black Spiral Vortices

setting.
Alternate Ritual Magick Rules: the

Black Spiral Vortices

setting is a futuristic environment. As such, Ritual Magick works a bit differently than in the core setting. Furthermore,

Black Spiral Vortices

introduces a new type of technological magick called Metaphysicks, and the rules for implementing this potent tool.


Locations

: a brief overview several human colonies, both within the Earth solar system and beyond! Take to the stars with

Black Spiral Vortices

.
Black Spiral Vortices

was written and developed by Travis Legge and is available for ONLY $2.00 at http://www.drivethrurpg.com/product/168213/Black-Spiral-Vortices