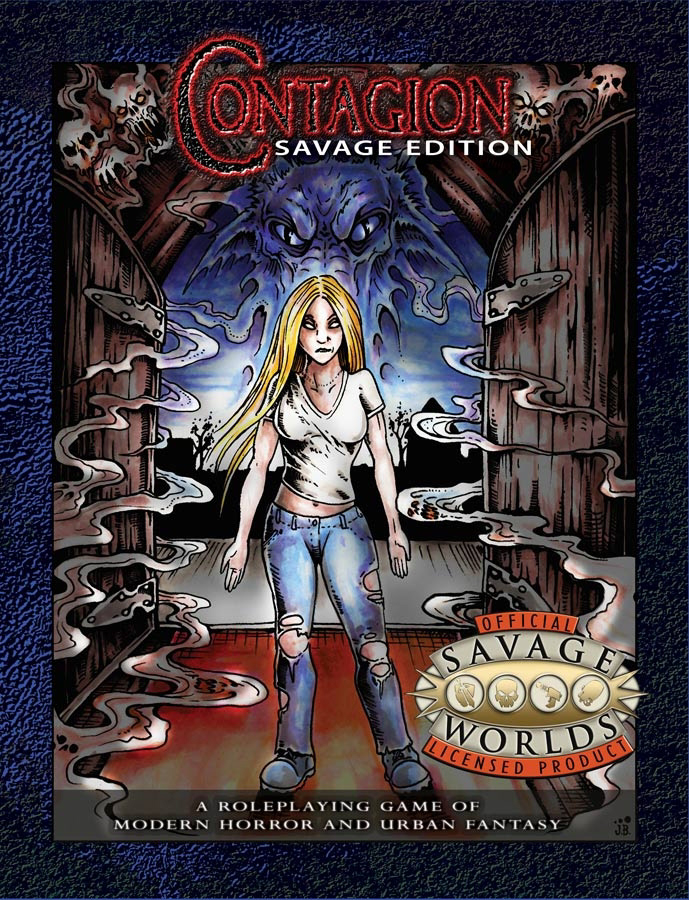 The world of
Contagion
is a dark and terrifying place. On the surface it is no different than the world you and I live in. Most people go on about their lives never realizing the terrors that walk among them.
Despite humanity's vast ignorance, the horrors are there. Angels, demons, gods and Hellspawn make war in the shadows. Clergy and Slayers rise from the human flock to protect their brethren and work God's will. Magi and Witches wield powerful magics in their pursuit of enlightenment.
There's a war in the shadows. Choose a side.
Contagion Savage Edition
brings the world of 
Contagion
to the incredibly popular
Savage Worlds
system!     
This game references the Savage Worlds game system, available from Pinnacle Entertainment Group at www.peginc.com. Savage Worlds and all associated logos and trademarks are copyrights of Pinnacle Entertainment Group. Used with permission. Pinnacle makes no representation or warranty as to the quality, viability, or suitability for purpose of this product.

DISCLAIMER
This book contains rules, setting material and fiction that use the occult, the supernatural, horror, urban fantasy, violence, magic, angels, demons, religion and various potentially offensive subjects and elements in order to tell make-believe stories. This is NOT an endorsement of any of these themes.

It is only a game.
Nothing in here is real.
If you cannot handle that:
Don't play.
Don't read.
Get help.

Everyone else: enjoy!
Contagion Savage Edition
was developed and written by Travis Legge with additional material by Kyle Hoskins, Darius McCaskey, Sarah Scharnweber, Jason ssg, Cathleen Stark, Tim Stotz, Thomas L. Vaultonburg and Adam Williams