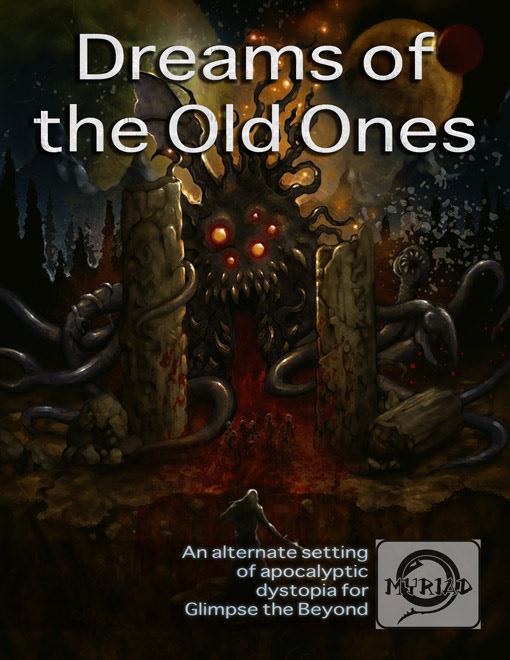 Dreams of the Old Ones

is a unique setting expansion for

Glimpse the Beyond

, which examines options for a darker, more terrifying version of the world. In

Dreams of the Old Ones

, the supernatural has burst forth from the shadows and taken center stage across the globe. Civilization as we know it in the 21st Century has all but collapsed, and the Magi, once hidden from humanity, have begun to pursue their agendas openly, no longer concerned with keeping their fellow humans in the dark about the truth.
Dreams of the Old Ones

examines how these various changes have reshaped the Earth socially, politically and physically. The rules and materials herein are designed to explore a dark, broken nightmare of a world, far removed from the "world outside your window" presented in the core rulebook. This post-apocalyptic dystopia is painted in broad strokes, leaving many of the specific details up to the Guide to determine. New setting elements and systems will be introduced which have been designed with the shattered world of

Dreams of the Old Ones

in mind. Having said that, some Guides may wish to cherry pick certain elements from this book for use in a standard

Glimpse the Beyond

campaign, while ignoring other elements. Such is the prerogative of the individual Guide. It's your game. Keep what you like and discard the rest.   
Alternate Character Creation Rules:

an expanded rule set that allows players to draw up mundane humans, humans who have been mutated by chaotic magickal energies and supernatural creatures as playable characters.
Alternate Ritual Magick Rules:

the 

Dreams of the Old Ones

setting is a magick-rich, chaotic environment. As such, Ritual Magick works a bit differently than in the core setting. 
Locations:

a brief overview of the city of Chicago and the village of Moundsville, as they are in the post-apocalyptic world of

Dreams of the Old Ones

.
Dreams of the Old Ones

was written and developed by Travis Legge and is available for ONLY $1.00 at http://rpg.drivethrustuff.com/product/131261/Dreams-of-the-Old-Ones.